Old Trick in Africa: A Review of Hear Me Alone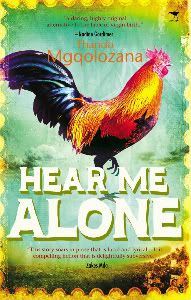 The book's title, Hear Me Alone, rings out an injunction: it could mean "hear only me" or "listen in solitude". Or it could mean something much more profound; something that will never fully reveal itself.
Thando Mgqolozana's novella is designed to baffle and challenge, as much as delight, with puzzles and in-jokes, whimsical descriptions, lyrical landscapes, blue-headed lizards that dance to a shepherd's song, a dog called Omen and another called Brown.
Its language feels simultaneously ancient and of indeterminate time. And its plot includes a sly take on one of the oldest tricks in the book.
The setting is the Old Testament – with an African flavour. There's a village called Nazareth, a king named Herod, prophets false and true, and a baby born under a wandering star in a stable in Bethlehem.
There's a young man on the run because of passion's unintended consequences. True love has been thwarted, in time-honoured fashion, by parents intent on an arranged marriage that has nothing to do with the heart's compass, and everything to do with hand-made wooden furniture.
Joseph is a woodwork merchant, and a widower. He has been promised the reluctant young Miriam, while her childhood playmate, Epher, has been away in the province's capital, studying to become a surgeon.
Epher comes home for a visit. He proves his mettle when he breaks into the women's circle to assist in a difficult birth. The villagers are grateful to him for saving the baby and its mother, but not quite ready for his heretical opinions.
If the world needs some form of doctrine, Epher suggests, "it must not be based on the existence of a superman, because the image of a man represents violence to women".
It so happens that the "virgin" the villagers worship is a "him".
Epher plans to ask for his sweetheart Miriam's hand. But when he comes to see her father, the castrator (a terrifying vocation, under the circumstances), he bumps up against new furniture in their living room, and realises he is too late.
There is plenty of playful fun in this book. But you have to work hard to get at it. There are implications embedded in the village repartee, there are deep meanings and sly allusions.
But perhaps the intensely allegorical style is only as convoluted, overwrought, and obscure as all guilty excuses. For this is Epher's account, his reckoning to a respected friend. The young man's story is a mea culpa.
But what, exactly, is his "hear me alone"? It is unnameable, mysterious. It is private and personal.
"The truth of a hear me alone stays with a person," Epher's friend and servant Kush (the story's true wise man) tells him.
"Hear me alones have been there since creation," Epher's grandmother Kishoma tells him. "But Epha, child of my child, a hear me alone is a hear me alone. It speaks to its hearer, is heard by its hearer."
So is it an angel? An inner voice? A conscience? A soul? Perhaps the greatest clue is Epher's own observation: "All the artist does is pay attention to his 'hear me alone' and then carves it out for others." In which case, Mgqolozana is carving out a singular space in our collective inner ear.
Hear Me Alone is published by Jacana
This review is brought to you by Books LIVE Wire. Books LIVE Wire books sponsored by Exclusive Books